On Friday, October 27th, Bret Wolfe left the Keālia Pond National Wildlife Refuge in Kihei, Hawaii for the weekend. Everything "just looked usual," the manager of the refuge says. When he returned on Monday, Wolfe received a note that there was a strong stench wafting in the area. "I figured that there was something going on in the ponds, maybe a fish die-off or something," he says. But when Wolfe went to check it out, a surprise greeted him: The water in one of the ponds was bright pink.
"I immediately thought 'algae bloom,'" Wolfe says, which would not have been good, since some can be toxic. So he called the Department of Health and Hawaii's Division of Aquatic Resources to come do some analyses.
They determined that the likely culprit is halobacteria, which is not in fact a bacteria but a type of single-celled organism called "archaea." Halobacteria thrive in super salty water—"halo" is a Greek prefix that means "salt"—and they tend to dominate once the salinity gets so high that not much else can thrive there. Regular seawater is about 3.5 percent salt. Keālia Pond National Wildlife Refuge "is always a very salty place," Wolfe says. The water in the now-pink Maui pond usually sits at around 5 or 6 percent, but has gone up to 7.7 percent.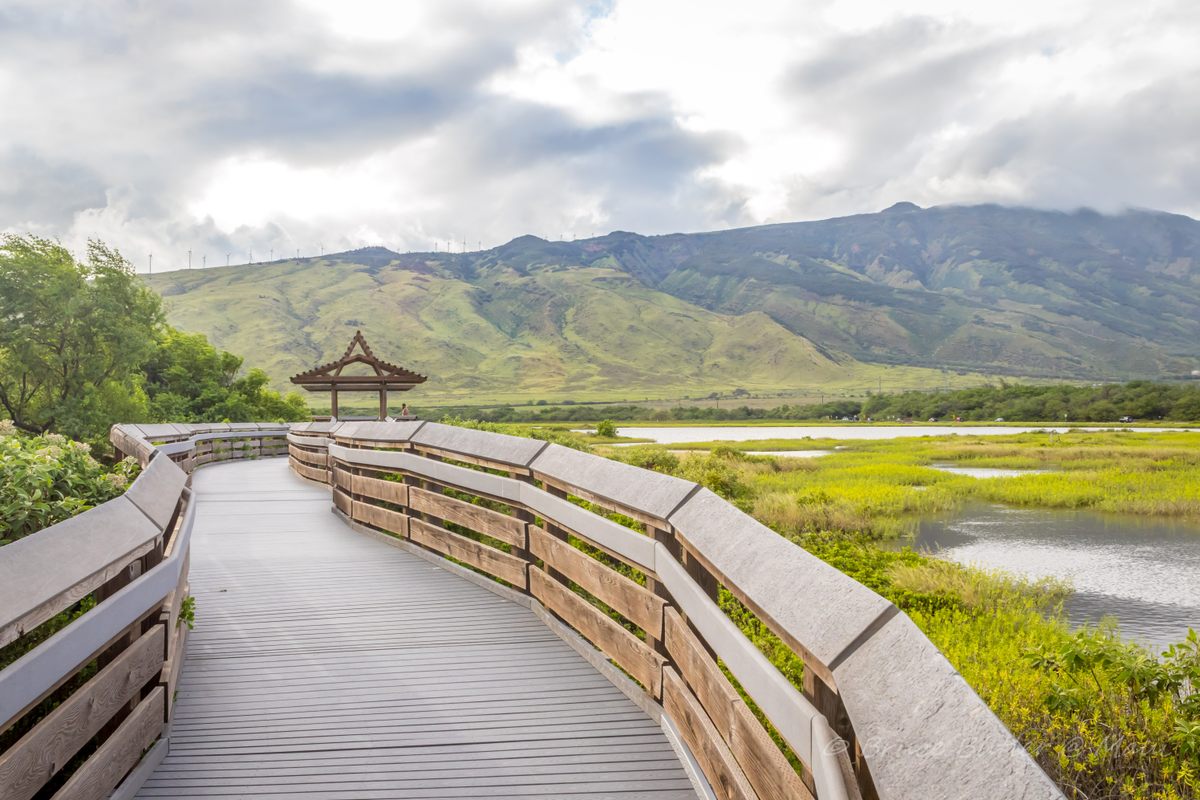 "You can tell the salinity by the color of the ponds," says Ed DeLong, a marine microbiologist at the University of Hawaii at Manoa. When regular seawater starts getting a little saltier, the first things to start blooming are salt-loving algae, so the water will turn green. But then as the water gets more and more salty, it will likely turn redder and pinker as the halobacteria take over. When you see those pinks and reds, "you're actually seeing the color of the cells—that's the halobacteria's pigment," says DeLong. The halobacteria use that pigment to undergo a photosynthesis-like process to make energy out of sunlight.
While it's remarkable to look at, this is not actually a rare phenomenon. "It happens all over," says DeLong. One well-known example are the pink salt ponds of San Francisco Bay, which are visible from the plane if you fly into the San Francisco airport. There are also instances in Australia, Spain, Senegal, and Siberia.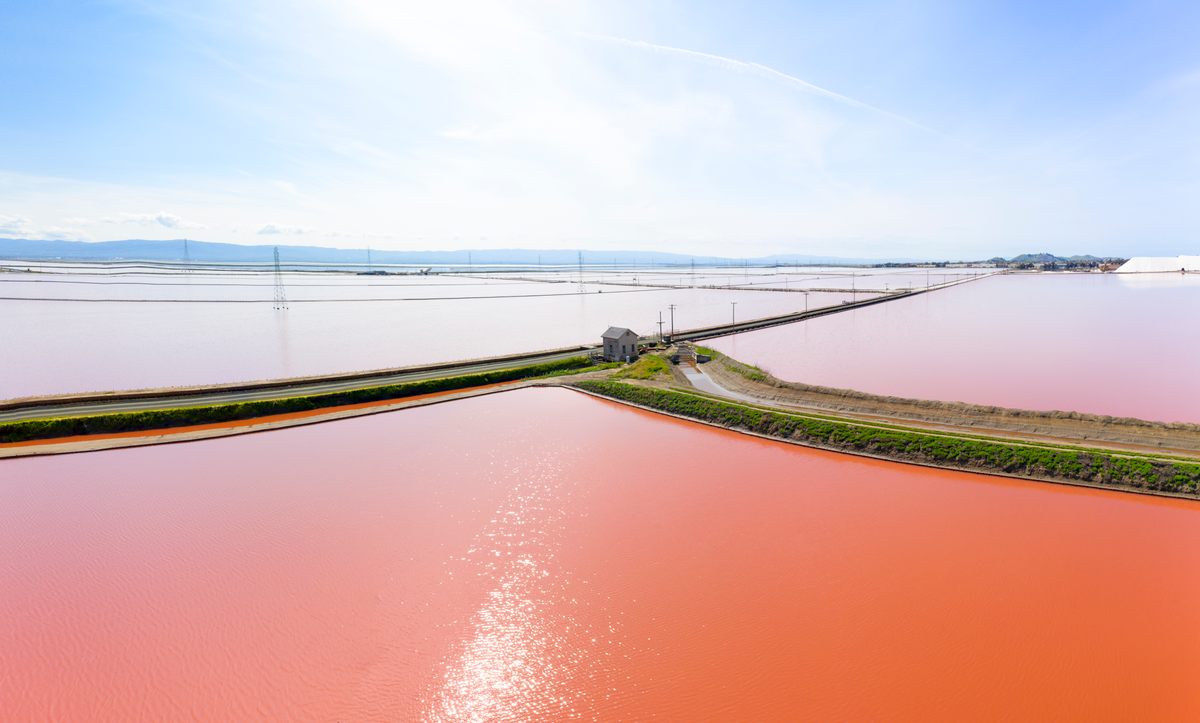 Keālia Pond has always been very salty, and "'Keālia' in fact means 'salt-encrusted,'" says Wolfe. "We always have algae blooms of different colors… but we've never seen this before," he adds—though, a colleague mentioned seeing something similar once in a pond on Maui. Wolfe says the current weather patterns might have something to do with it. It's currently at the end of the dry season in Hawaii, and the region is in its fifth year of severe drought. Plus, there have been wildfires breaking out in the area.
Thankfully, halobacteria are not toxic and aren't likely to harm other organisms or cause disease, according to DeLong. But as per normal wildlife refuge rules, Wolfe and his staff are telling visitors not to touch, drink, or fish in the water. Plus, even if the water is safe, "there are still some unknowns," Wolfe says, such as exactly what species this is and whether they'll see any ripple effects throughout the ecosystem in consequence. "We haven't seen anything yet," Wolfe says, "but we're certainly observing—we're always looking at that."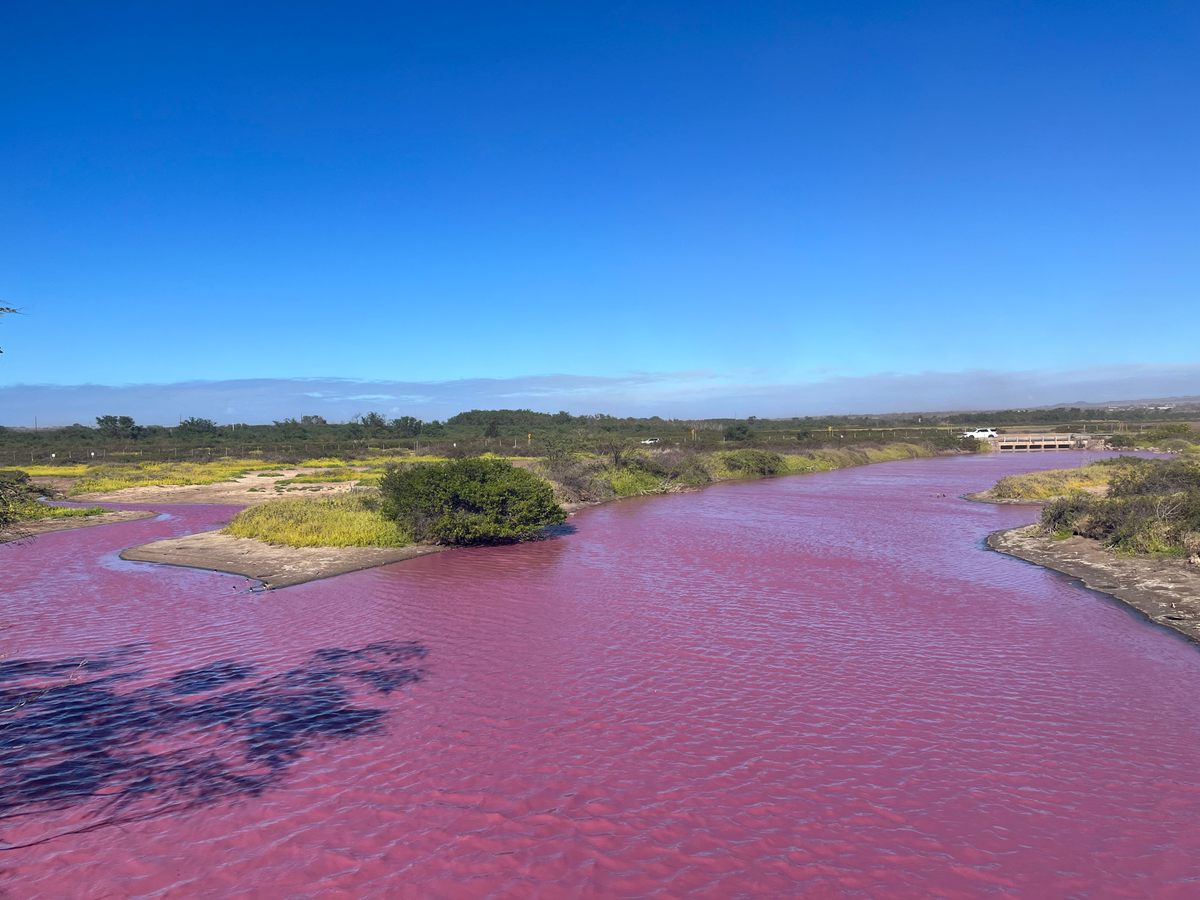 Since the pond first turned Barbie-pink, it's been quite the attraction. On a busy Saturday or Sunday, the refuge might get up to 500 people visiting the boardwalk. "We got 11,000 over the past weekend," says Wolfe. People have been coming up from all over to look at the water, sometimes in pink matching outfits to take pictures. One woman had bright pink hair, though Wolfe says that was probably a coincidence.
For visitors hoping to stop by, it's important to note that this pink water probably won't last very long. "As soon as we start getting rain, our wet season, it's very likely it will go away," Wolfe explains. In fact, at the time of interviewing, he says, "it's raining right now, right outside my window for the first time in months—that could be what triggers the archaea to die."
As far as he can tell, "whether or not this will happen again, we don't know." But even if the pink water disappears, he hopes that people will come visit regardless to learn about their wildlife mission and the endangered species they protect.