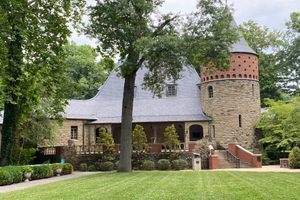 Just off US Highway 41 in western Kentucky, the Audubon Museum & Nature Center stands as a tribute to one of America's most renowned naturalists and ornithologists, John James Audubon.
This captivating destination celebrates the life and work of Audubon while immersing visitors in the beauty and diversity of this natural world that inspired him. The Audubon Museum & Nature Center pays homage to the life and legacy of Audubon, a French-American naturalist, ornithologist, and painter famous for his groundbreaking work, The Birds of America.
Audubon's unparalleled passion for studying and documenting North American birds led him to create a comprehensive collection of illustrations that remains an invaluable resource for ornithologists and artists to this day. The museum, designed to harmonize with its scenic surroundings, houses an extensive collection of Audubon's original bird and wildlife paintings.
Visitors can marvel at the intricate details and vibrant colors that Audubon captured in his artistry. Visitors can also explore the Audubon Wetlands spanning 649 acres of the John James Audubon State Park and enjoy the beautiful scenery around the museum and nature center.