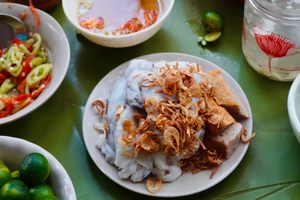 A delicacy of northern Vietnam, steamed rice roll, or bánh cuốn (pronounced "banh kwohn"), is one of the most underrated Vietnamese dishes. A testament to the sophistication of even everyday Vietnamese food, the dish is known to be technically challenging, requiring finesse and precision. Restaurants serving the best bánh cuốn tend to specialize in that dish alone. 
This 30-plus-year-old, Michelin-recognized street food canteen (whose name translates simply to Mrs. Xuan's Bánh Cuốn) is one of them. Here, watch the expert cooks pour watery rice flour batter onto a hot plate. As soon as the flour begins to congeal into a thin crepe-like consistency, it's scraped off and then rolled up with minced pork and wood-ear mushroom. What's key here is the soft texture of the sheet, which is extremely delicate and easily breakable. 
Standard toppings include hunks of Vietnamese giò lụa—a type of pork sausage that is made by steaming finely minced ground pork seasoned with fish sauce in banana leaves—as well as a generous sprinkling of fragrant fried shallots. Bánh Cuốn Bà Xuân also serves a special, not-as-traditional version with a rich soft-poached egg layered into the rice roll. 
The key to eating bánh cuốn is to combine the rice rolls with various fresh herbs—which here come in a basket of cilantro and perilla leaves—as well as to make your own dipping sauce by stirring up the provided ramekin of fish sauce with mix-ins like pickled garlic, bird's eye chili, and calamansi juice.