"The transition to electrification is a must, not an option," said boss Ho-sung Song
Korean brand's line-up will soon span from small EV2 all the way to BMW iX-rivalling EV9
Kia bosses believe a focus on reducing the barriers to entry for EV adoption – particularly concerns about price and charging – and the adoption of a regionalised approach will be key to meeting its ambitious goal of becoming a 'global leader' in electric cars.
The Korean firm has grown rapidly in recent years thanks to the success of its rebrand and new electric models. Now, it is aiming to grow its global EV sales from a target of around 258,000 this year to one million (about 25% of its total sales) by 2026 and 1.6 million (37% of its total) by 2030.
Kia boss Ho-sung Song said: "The transition to electrification is a must, not an option." But he noted there are still significant challenges in achieving that. 
He said: "Even with the global EV market growing rapidly, the vast majority of buyers are still 'early adopters'. Mainstream consumers are still behind. We think there are two big barriers for consumers: high prices and charging concerns."
Notably, a key part of Kia's growth in recent years has come from the Kia Niro EV, which has found success by offering similar size, range and features to more premium-priced rivals. That approach will be reflected in the next models from Kia's range of bespoke EVs.
Kia's comprehensive line-up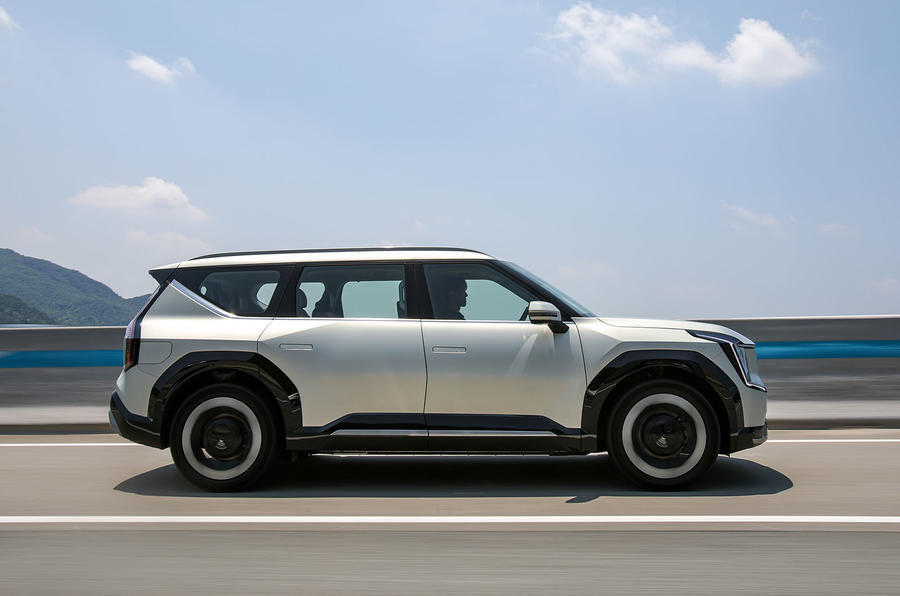 The first two in that line-up, the Kia EV6 and Kia EV9, are both large models intended to serve as 'conquest cars', winning over new buyers among those early adopters.
But Kia has now shown three smaller B- and C-segment models: the EV3 small SUV, EV4 saloon and EV5 family SUV. These will arrive in the UK and mainland Europe in the next three years, priced from around £27,000 to £40,000. Song also confirmed a smaller, European-focused sub-£25,000 Kia EV2 is on the way in 2026.
That range of models is intended to have broader appeal, particularly in the European market, where EV adoption is relatively advanced. In emerging markets, where take-up of EVs is slower, Kia will again initially focus on the EV6 and EV9 for early adopters. But it is working on developing a range of 'strategic' regional models that will be focused on and produced in emerging markets and, like the EV2, be pitched at below £25,000.
While rivals such as Renault and Volkswagen are working on sub-£20,000 models, Song said: "We still have some homework in how to achieve $25,000 [£20,000] but this is what we continue to discuss and study." 
He added that models at that lower price would eventually be needed "to widen the scope of customer accessibility".
Kia's flexible global strategy 
Song said Kia is "stabilising EV production and battery supply systems" to allow for this model growth, working to establish a number of joint ventures with suppliers.
"That would give us more control over cost and a sustainable and consistent supply of batteries that will give us stable management of our EV production," he said.
The firm will have eight global EV production bases in place by 2025 to best suit each region. Song said the focus was on transforming existing ICE plants to EV production "so we have less investment cost than for emerging EV brands that need to invest in developing a whole plant, which has less impact on our cost structure".
South Korea will serve as the 'global hub', including model production, R&D and battery supply. Small and medium-sized EVs aimed at the European market, including the EV2, will be produced at its plant in Slovakia, where the Kia Sportage is currently made. 
China will be home to medium- to large-sized EVs such as the EV9, along with a number of local models. The emerging-market EVs will be produced in India.
Kia will also produce a diverse range of cars in North America, which will be required to avoid import tariffs on EVs due to the impact of the US's Inflation Reduction Act. For example, EV5s built in Korea are unlikely to be sold in the US, but they might be exported to Canada.
Song said the regionalised approach reflects the differing rates of electric vehicle adoption. "Emerging markets are in very different stages at the moment, so we have to be very flexible in how we adapt to these emerging markets," he said. 
"In emerging markets, we will need very affordable products, so we will likely need to produce two or three very strategic models for those markets."
Charging and connectivity 
Kia's efforts to help boost charging infrastructure include its partnership with four other OEMs in the European Ionity network, which is aiming to expand to 7000 fast-charging stations by 2025, and with a group of six OEMs on a North American network of around 30,000 fast chargers by 2030.
In North America, Kia has also become the latest manufacturer to announce that it will offer cars with Tesla's North American Charging Standard (NACS) ports from the fourth quarter of next year. This will grant access to the 12,000-strong Supercharger network. Kia is also working on its own home chargers for certain markets.
Another key area for Kia is streamlining the customer experience, particularly through a new smartphone app. This single consolidated app will replace multiple existing Kia ones and is intended to cover every element of ownership, from arranging test drives and shopping to managing servicing. 
One essential feature will be in-app 'e-routing', which will offer route advice, including charging based on current battery status and real-time charging station data.
The app will also be capable of potentially reducing insurance costs by allowing customers to agree to have their driving data monitored, similar to some 'black box' services currently offered.
In addition, Kia is in talks with a 'leading' generative AI firm to offer more conversational and in-depth in-car voice control support – allowing drivers to, for example, ask it to recommend restaurants at a destination within a specified distance of a working EV charger. That system will first arrive with the EV3 in 2024.