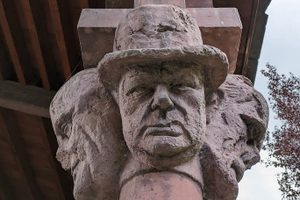 Along the banks of the Valira River, which makes up the western border of Valira Park in La Seu d'Urgell, lies a set of cloisters, unusual in that they are detached from any building. What makes these cloisters even more unusual is that they do not feature saints and demons, but rather famous people from the modern era. Figures such as Albert Einstein, Charlie Chaplin, Winston Churchill, and Sigmund Freud adorn the capitals of the pillars. The modern cloisters even feature a capital of fascist dictators, appearing in the same way grotesques are in normal cloisters.
The cloisters were designed by local architect Lluís Racionero, and built in 1990. They are a replica of the cloisters in the Cathedral of La Seu d'Urgell, just a 15-minute walk away. These medieval cloisters are well-known for depictions of grotesques, animals, and plants.
Unfortunately, in the Valira Park cloisters, only two pillars along each wall are decorated. Still, it is quite fun to try and identify the characters on each one.