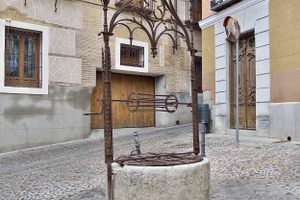 Toledo, the imperial city, as it is also known all over Spain, is a city rich in history and traditions, but also abundant in legends and episodes based on what has been passed on for generations. One of the most popular legends has to do with this humble-looking well. The well was once part of the patio of the house of a well-known Jewish family from Toledo and it witnessed a story of impossible love.
As the story goes, Levi, father of Raquel, found out his daughter was secretly seeing a young Christian gentleman. The young couple would often spend time together by the well on the patio. After some time, Levi overheard that the Christian was looking to marry his daughter. That night, Levi saw a shadow jump over the wall and reach the curb of the well where his daughter Raquel was sitting. In a rage, Levi took a dagger and killed the young man as the couple embraced. Raquel gave a loud cry as she felt her love loosen from her body and fall to the ground. Her father had just killed her boyfriend, but secretly she knew that she had died that night too.
From that moment on, Raquel would go back to the well every night to remember her lover. So many tears were shed on the curb of the well that its sweet water turned bitter. One night while Raquel was reminiscing, she saw the face of her lover at the bottom of the well. It seemed to her that he was still there, alive, calling her. She threw herself inside with him and drowned.
It is a tragic legend with no happy ending. But it is a clear reflection of the clandestine love affairs that must have occurred in Toledo of the Three Cultures.
If you go to visit the Bitter Well, you will see it there along with a plaque on the wall that recalls this story. One of the most romantic albeit ill-fated corners of the city of Toledo.