Where: 165 NE First Ave., Pompano Beach
Phone: 954.890.2000
Website: southpmp.com
Go South: Maybe it's South Florida's melting pot mix of permanent and part-time residents. Or the array of culinary concepts in the region that highlight international flavors. Whatever the reason, we're not exactly known as a hotbed for Southern comfort cooking, despite being tucked in a southern corner of a southern state. All of that got Mike Linder thinking. The owner of SFL Hospitality Group—creators of Canyon, Rio's Tequila Bar, YOT Bar & Kitchen and Jet Runway Café)—used his travels around the U.S. as inspiration to launch South Bar & Kitchen in Pompano Beach. The restaurant, which opened in May, pays homage to traditional Southern cuisine while adding a little South Florida fare through a fusion of Cajun and Creole flavors. The menu boasts made-from-scratch dishes, spices and marinades. "I really love New Orleans and Charleston and felt the area needed more Southern comfort; old Pompano is a great location for it," Linder says. "We wanted an approachable restaurant featuring great Southern options to serve the locals but also bring people to Pompano from Miami and West Palm Beach. I think there's a need for it." 
Bird buzz: The fried chicken sandwich wars may have started with a feud between fast-food chains, but it officially ends at South Bar. The restaurant's flavor-rich fried chicken sandwich is an instant classic. The double-dipped chicken breast is topped with shredded lettuce, pickles and garlic mayo on a toasted brioche bun. "You can't go wrong with it because everybody loves a good fried chicken sandwich, but ours certainly takes it to the next level," Linder says. Not to be outdone, the traditional fried chicken offerings are brined and perfectly seasoned to produce mouthwatering flavors that rival any Southern restaurant.
Menu musts: On the Low Country front, South Bar boasts shrimp and gouda grits in shellfish broth, as well as the Craw Daddy (crispy crawfish, Cajun crawfish cream sauce, smoked gouda and noodles). Po' Boys come with your choice of shrimp, shaved catfish or roasted beef. The bone-in pork chop, meanwhile, delights with potato mash, applewood smoked bacon, beans and greens. Sides at South Bar hit all the right down-home notes. The biscuits are flaky yet crisp and come with homemade jams and honey for an appetizer that perfectly accompanies the smoked chili-glazed spare ribs. The sweet potato casserole, another customer favorite, is a delicious companion to the main courses.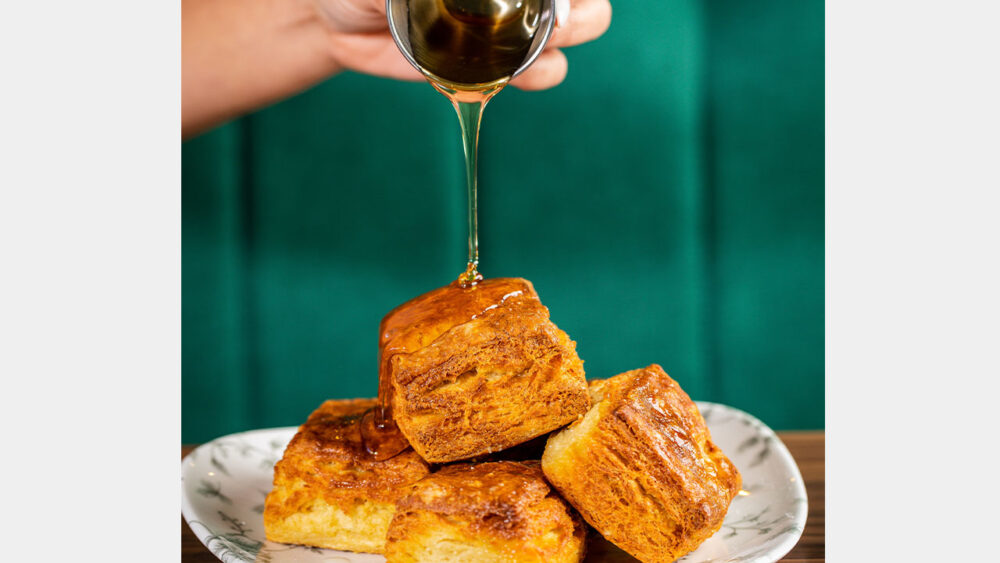 Savor the Spirits: Southern comfort isn't limited to the food. South Bar's extensive cocktail menu relies on modern mixology to transport patrons to the front porch swing. For Linder, a good cocktail starts with the presentation, so he focuses on the proper glassware for a colorful display decorated with garnishes that help produce a satisfying taste. The La Sandia with Patron Silver Tequila, basil, fresh watermelon, citrus and agave is South Bar's sophisticated version of a margarita. Then there's the Caged Cobbler—peach-infused Knob Creek rye with black walnut and orange bitters. Gin & Jam combines egg whites, citrus and muddled raspberries with Hendricks gin.
The scene: Sure, the food matters at any restaurant, but the environment and experience also play a pivotal role. Adding to the lively atmosphere is a shipping container bar decorated with murals by local artists and a custom-designed meat smoker. The centerpiece of the terrace is a tree decorated with sparkling lights, creating an ideal backdrop for Linder's warm, welcoming space. With SFL Hospitality standing for Service, Food and Location, Linder takes pride in producing a friendly atmosphere with exceptional service that ensures patrons enjoy a relaxing meal. "You can have the best food, but if the service isn't up to par, people won't come back. We really focus on that aspect along with exceptional dishes with approachable and identifiable flavors. The food is obviously important, but it's always the service you remember."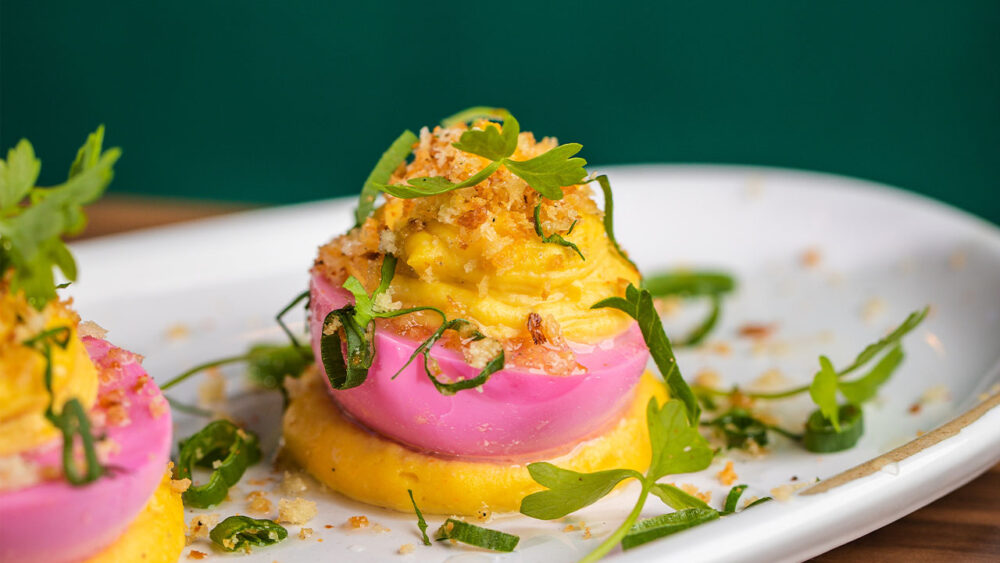 Short Takes
• Desserts at South Bar play to the restaurant's theme. The South Cobbler features fresh seasonal fruit, brown butter streusel and vanilla ice cream. A banana pudding parfait boasts vanilla wafers made in-house. And the buttermilk biscuit shortcake is served with Chantilly cream and macerated seasonal fruit.
• On the starters front: Don't miss the deviled eggs (with smoked trout roe and chicken cracklin') or the boudin balls (Cajun roasted pork and rice croquette).